About us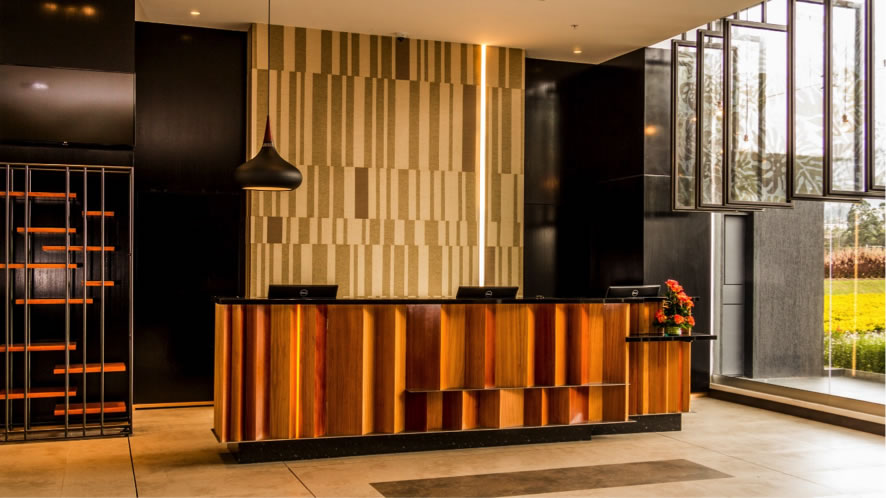 EB
Hotel is the second installment of the EB brand from the Eurobuilding Hotels chain, which is known providing a 5-star service and a luxury design experience throughout all of its 9 properties, located throughout Venezuela, Argentina and the United States.
EB Hotel is open Since Octuber 2017.
The EB Hotel is located just 8 minutes away from the new Mariscal Sucre International Airport, in the area of Tababela, Metropolitan District of Quito.
We are close to the different locations preferred by visitors, 30 minutes away from the city's historic center and other tourist attractions such as the Andean mountain range, the Cotopaxi volcano and 20 minutes away from the center of the world. Other beautiful landscapes, like the Quilatoa volcano, are easily accessed as well.
The hotel has been specially designed for business travelers, tourists and families in general, offering comfort, service and spaces that will inspire you and make your stay a pleasant experience.
The modern decor, our 5-star service, and our unique state-of- the-art amenities, invite our guests to relaxation and creativity, accompanied by an impressive lobby - bar and the Restaurant with a fusion of local, Ecuadorian and international cuisine that will make your visit unforgettable.
If you are looking for a location for your event or meeting, EB Hotel will be the right place. We offer a modern business center that offers private conference rooms, with dining service available and a large ballroom that will offer seating for up to 500 guests in round tables or 800 in theater configuration.
Our sales manager is willing to assist you, answer your questions and offer you the best options for your event.
For more information, please contact us through 1800 EBHOTELS / 593 - 2 3941020 / 593 - 2 3941021 or
reservasquito@ebhotels.com
. .
Our rooms
Standard King
Standard Double
Deluxe Suite
Master Suite
Our luxurious rooms have been designed for the modern travelers and families. You will be able to notice this from the moment you walk in to your room to when you leave it on your departure date. Every single detail has been thought out so that you have the best possible experience that a guest room can deliver.
EB Hotel will offer all the comfort you want: luxury linens, beds with mattresses specially designed for the best possible sleep, comfortable seating areas which you can adjust to fit your particular needs and a HD-LED flat-screen TV. All of this complemented by the comfort of our facilities and the best service so that you enjoy a luxurious stay.
Our policy is our commitment to service, so if you need anything else while you stay with us, just ask us and we'll be happy to assist you.
Advantages
Completely soundproof rooms
In-Room Fridge with complimentary refreshments
HD-LED flat screen TV with Premium programming channels
Cotton bathrobes
Premium Toiletries
Complimentary wireless high-speed Internet connection
Safe deposit box
Dry Cleaning Service
24 hour room service
Dual Shower Heads with additional hand shower
Smart dim-lights
Electronic room status buttons
Bathroom view electric shade
LOCATION
24 de Septiembre S2-389 and Conector de Alpachaca
Quito - Tababela, Ecuador
South America
CONTACT INFO
reservasquito@ebhotels.com
593-2 3941020 / Whastsapp 593 98 363 05 77